Stand Up Paddleboarding (SUP) is a wonderful workout. Just getting out on the water works your core, your legs and improves balance and focus. Adding Yoga SUP to the mix dials the workout up to 11 (or 15 in my case – newb yogi alert). To some, getting into the sport is a daunting task, even without the added layer of selecting the right hardware. This guide is meant to make it easy to pick your board and strike your first pose! To the review. We call out the Best Yoga SUP boards for a variety of paddling situations and budgets below.
The
TOP

Yoga Boards

Lets talk about our curated board selection. Airkayaks only carries boards that we THOURUGHLY vet for quality and durability. These boards range in price from $529 to $1399.

And two boards not specifically branded for Yoga:
Typical Features of all Yoga Boards
Stability – all Yoga SUP boards are designed to be stable.
Rigidity – all Yoga SUP boards are designed to be rigid on the water
Width – Yoga SUP boards are typically wider than their all around counterparts with most measuring 32-34″ in width. Also the boards are typically "square" meaning the width runs the majority of the board where an all around board will have an oval profile.
Comparison Table
Best Yoga SUP Value – Advanced Elements Lotus YSUP
At $699, the Advanced Elements Lotus YSUP packs tremendous value into its 10′ size.
Package: To start, the package now includes a paddle and a pump, so its straight from the box to the water. The carrying backpack is more slim than some of the other boards in this review so it will not fit much extra gear.
Design: Advanced Elements has a 3/4 length traction pad, so the majority of the board is usable, and has a nice shoulder strap (which keeps the grip handle out of the center). The colorway is a nice, white / grey / green with a lotus flower near the top.
Stability: This board offers average stability for a 10′ x 32″ board. To get better stability, you would need to size up your board (either width or length).
Alternate Use: 3 removable tracking fins make the board track well when used as an all around, and this board would also be great as a versatile kids board.
Rated at 4/5 stars as a Yoga SUP, this board is a great option for all.
Top 3 Yoga SUP Board – Hala Asana
Stability: At 10′ and 34″ wide, the Hala Asana is an incredibly stable yoga board.
Design: Known for whitewater and a pronounced rocker shape, the Asana offers a mild Rocker, with a near full length traction pad. The board does have a center handle which can compete with some poses. The colorway was changed recently to Purple Gold and Teal, which reminds me of the Karl Malone era Utah Jazz uniforms.
Package: The board comes ready for the water with a paddle, and Hala's wheeled backpack is nicer than most at this price point.
Build Quality: Hala boards are all loaded with features and top end materials. This board is no exception. I would rate it in the Top 3 yoga boards on the market today.
At $999, it is on the upper end of the price scale, but not as expensive as the Pau Hana Moon Mist, or Red Activ.
Buy this board if you're looking for a top quality and fully featured Yoga board, that will work great as a crossover All Around.
Best Looking Yoga SUP Board – Pau Hana Surf Supply Moon Mist
New to Airkayaks.com, the Pau Hana Surf Supply line offers a variety of premium boards with premium design. Some are quirky, but the Moon Mist is universally lauded as the best looking board at the beach.
Design: We have taken this one out many times and gotten tons of compliments on its design. Its a favorite of my wife, and her go to board for 2021.
Build Quality: On top of its stunner design, its made out of TPU, instead of PVC, so it is much more eco-friendly.
Package: It comes with a durable rolling back which has room for more items than the included paddle, pump, repair kit, leash and board. The included Paddle is Fiberglass and offers the same colorway as the board.
Stability: Im a little on the large size for this board at 6'3″ so it really put my skills to the test and I much prefer boards closer to 11′ in length. My wife at 5'2″ loves this board. It is perfect for someone on the shorter side.
At $1299, buy the Pau Hana if you are looking for the most eco-friendly board on the market, or the best looking board on the market.
Top 3 Yoga SUP board – Red Paddle Co Activ
Red Paddle Co slogan that "the proof is in the paddling" rings especially true with the Activ 10-8.
At $1399, and sold without paddle, the Red is the most expensive board in the Airkayaks line, but it is also one of the most popular.
Build Quality: Red is simply unmatched throughout the line with their MSL fusion board construction. Other brands offer fusion technology, but year after year, Red increases their technology staying ahead of the rest
Design: A nice teal and blue colorway with a lotus flower icon. Red also leaves the center of the board clear for poses.
Stability: I found the Red Activ to be the most stable board that I tested, not a surprise given its larger size at 10'8″ x 34″.
Package: Red's Titan pump is the best pump included with any SUP on the market, but this board is not available as a package, so most customers spend over $1500 by the time they get the accessories they need to get on the water. (typically paddle and leash go with the board).
Buy the Red Paddle if you are on the larger side and want the best Yoga Board money can buy.
Versatile Yoga SUP Crossover for larger paddlers: Aquaglide Kush
While not billed as a straight yoga board, the Aquaglide Kush is a versatile all around board, that crosses over to yoga with ease. Priced at $899 sans paddle, the Aquaglide Shovel Tip design performs quite well by keeping the water line for increased maneuverability and stability.
Design: The Kush is an All-Around crossover, so it will not have all of the common features of the Yoga specific boards above. What it does have is a HUGE carrying capacity at 350 lbs, awesome stability, and the ability to carry to paddlers in a pinch. The colorway is a nice orange digital print gradient to dark blue. A plus is Aquaglide includes its universal mount, so it is easy to attach an action cam, or coffee cup! The EVA pad is about 2/3 length but the board is 11′ long so its very close to the same size as some of the other Yoga board EVA traction pads.
Stability: 5/5 this board offers excellent stability on par with any on the market.
Package: the board comes with a nice backpack but the backpack is not wheeled. It also is sold without a paddle, so you will need to add one to get on the water. Expect to spend about $1000 to $1100 to get a complete kit.
Buy the Kush if you want a little bit more versatility with your Yoga Board, and you may want to bring a little one with you from time to time.
Budget friendly Yoga SUP contender: Tahe 10-6 SUP-YAK
The Tahe 10-6 SUP-YAK is our pick for the most versatile board of the year. An instant hit, these boards sold out early in the season.
Design: A hybrid kayak / SUP combo at heart, this board is great for about all uses. It offers a nearly full length traction pad, and a unique Daisy Stringer Molly setup which allows positioning attachments nearly the full length of the board. Its shape is similar to a touring board or a sport with a more pointed nose. The colorway is white with a varied blue EVA deckpad. Its style is typically rated a notch or two below Pau Hana and Aquaglide but that's not its goal.
Package: The board comes with a pump, paddle, leash and bag, but the components are aimed at the more budget conscious as the street price on the board is $529.
Stability: At 10′ 6″ in length and 34″ wide, the board is very stable.
Build Quality: Time will tell – as this is our first year with the new model, we will see how they hold up after one season. We have demoed the board extensively and ours is holding up great.
Buy the Tahe SUP-YAK if you are looking for a hybrid crossover at a budget friendly price point. Rated at 3.75/5 for yoga use only. Rated at 10 / 5 for its all around versatility and capabilities.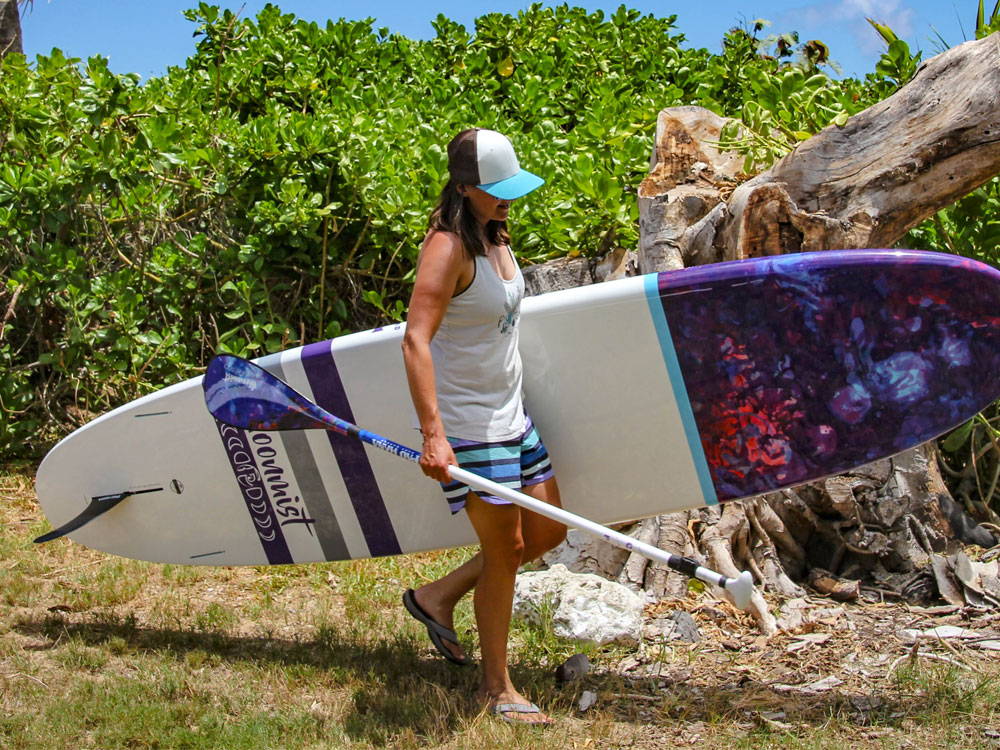 Bottom Line
SUP Yoga is fun! Our first advice is to get out there and try it! Its tough picking between several boards with very close features and at similar price points. We hope to have explained some of the core features which differentiate Yoga SUP boards from the rest of the boards out there, while still providing some options for those that are looking for a crossover or hybrid design. In the narrow niche of Yoga iSUP boards, we are happy to be your "guru" / guide to selecting the right board for you.
Airkayaks has recently launched a sister website, Airsups.com, which is focused on the SUP market. We've developed an iSUP quiz which will help you pick the right one if you are not sure what you are looking for.
As always, feel free to call us at 833-743-0199 and we are happy to assist you with your purchase.